Ray Faraca was born in Kellogg on December 8, 1930 and graduated from Kellogg High School in 1950, where he played football under Ed Heimstra, a member of the Idaho Athletic Hall of Fame.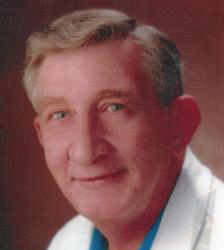 Ray received a football scholarship to the University of Idaho and was a starter on offense as a right guard and on defense as nose guard.  In his junior year, he was named as an honorable mention on the Pacific Coast Conference Team. This has led to his often repeated comment that he was "All-Coast, Almost."
Ray graduated from the U of I in 1954 with a degree in education.  He returned to Kellogg planning on earning enough money working at Bunker Hill to attend graduate school at USC for physical therapy.  Before he was going to leave for USC Kellogg School District called and offered Ray a position.  Ray taught Biology, mostly at Kellogg High School for 34 years where he also coached both football and track.
Ray's success as a coach can be measured in many ways, his track teams' winning district championships for sixteen straight years, with many state champions in individual events and relays. Ray was mostly an assistant coach for the Kellogg football team.  The highlight of his football coaching had to be in 1984 when as head coach his team ended up in a tie with Post Falls for the Inter-Mountain League championship.  In his last two years at Kellogg, he took over responsibilities as Athletic Director and continued to work with the track team for several years after his retirement.
In 1956 Ray married fellow teacher, Mary Rae Thompson; they have been married for fifty-five years and have six sons—Jay, Tobin, Ray, Brett, Tony, and Guy.  All participated in athletics with varying degrees of success in football, wrestling, and track.  Four went on to graduate from the University of Idaho with the other two entering the work force with technical degrees.
Ray lives very quietly these days in Kellogg with the challenges and major responsibilities behind him.  As he looks back over his life, he still says, with no misgivings, "Its better to be a has-been than a never-was."