Dale graduated from Pendleton High School in 1956 where he played and lettered 3 years in baseball and basketball.  He was on the league all star team his senior year in basketball.  Dale attended Boise Junior College from 1956 through 1958.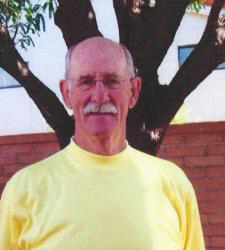 In his freshman year the BJC basketball team went to the National Junior College tournament in Hutchison, Kansas and placed 4th.  He went on play at the University of Idaho where he played basketball for two years.  He received the Oz Thompson Sportsmanship Award in 1960, the Jay Gano Award, Idahonian Outstanding Senior Athlete Award, and Basketball team co-captain in 1961.  He holds the U of I record for highest percentage of free throws made at 87.3%.
He started his coaching career at Lewiston High School in 1962 and coached there until 1968.  He took two teams to the state tournament where they placed 3rd and 4th. He went on to assist Wayne Anderson coach the freshman team at the University of Idaho from 1968 to 1974.  He then went on to coach Eagle Point High School from 1974 to 1976, then Treasure Valley Community College from 1976 to 1978.  He finished his head coaching career at Columbia Basin Community College and in 1980 he placed 2nd at the Washington Community College Athletic Association tournament.
In 1980 Dale purchased the Handy Mart in Post Falls and assisted Rolly Williams at North Idaho College for 8 years.
Dale is married to his wife Barbara and has a son Brett that is deceased.
"Dale James is a living example of how much heart plays in athletics.  Time and again through his prep and college days he outplayed boys and men with bigger and stronger physical equipment, and his friends' figure he'll be just as tough to beat in later life as he has been in school.  Hustle and determination pay tremendous dividends no matter where they are used"  Sportswriter in Pendleton